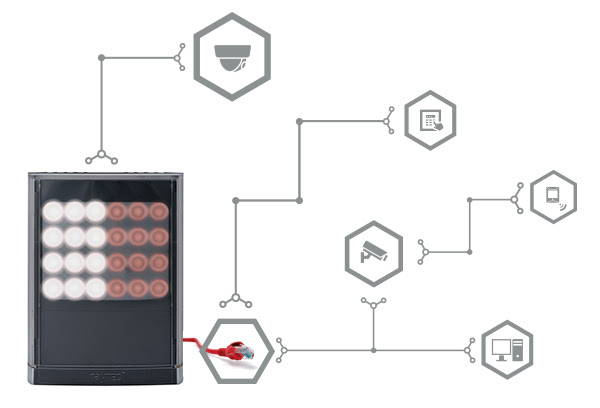 Raytec Announced Their Most Connected Illuminator : VARIO2

If you have a network surveillance system, lighting should be very important for you. With a better lighting performance, you can get better images, you can improve video analytics and reduce the response time for occuring events.
Raytec states that " VARIO2 IP Hybrid immediately becomes our most advanced illuminator, combining Infra-Red, White-Light, IP and PoE technology into a single package to deliver any lighting solution where and when it is needed. Infra-Red can be used for covert surveillance, and White-Light can be activated on demand to act as a visual deterrent, or to provide additional scene information for colour cameras. Utilising PLATINUM Elite twin-core SMT LEDs they integrate all the performance of a stand-alone Infra-Red illuminator and White-Light illuminator in a single two-in-one solution.
Fully IP addressable, VARIO2 Network Hybrid lighting can be operated remotely via a user friendly GUI, or fully integrated with VMS, BMS and 3rd party devices.
VARIO2 IP Hybrid represents an evolution of the award-winning VARIO IP range, becoming the only IP-enabled Hybrid illuminator in the market."
PoE Lighting

Plug and Play into Existing Infra-structure

No PSU Required, IP66 Rated

VARIO Interchangeable Lens System

Angles 10-120 degrees from 1 product

Hot-spot Reduction Technology (HRT)

Max Distance: 62m (203ft)


Input: PoE IEEE 802.3af or 24V DC (24V DC

Input available on Premium versions only)

Beam Shape: Elliptical with HRT
(Hot Spot Reduction Technology)
Catching the details in network surveillance video can be vital and better lighting can help you a lot. Raytec's new network illuminator VARIO2 seems to be the best solution so far.
Credits: rayteccctv.com
Recent Posts
Security cameras have become one of the most useful, yet confusing pieces of technology

To many businesses, Black Friday is both one of the best days of the year and th

One of the requests we most often receive from our first time customers is to re