There is a rising trend about the usage of Panoramic Cameras (and Fisheye and Multi-imagers) in 2017. In the past 3 years, panoramic camera's share of all camera integrators deploy has doubled from 4% in 2014 to 8% in 2017. While in 2014, 75% of integrators almost never used panoramic, that number dropped sharply to 33% in 2017"
Rising Trend in Surveillance Industry: Panoramic Cameras
There is a rising trend about the usage of Panoramic Cameras (and Fisheye and Multi-imagers) in 2017. In the past 3 years, panoramic camera's share of all camera integrators deploy has doubled from 4% in 2014 to 8% in 2017. While in 2014, 75% of integrators almost never used panoramic, that number dropped sharply to 33% in 2017"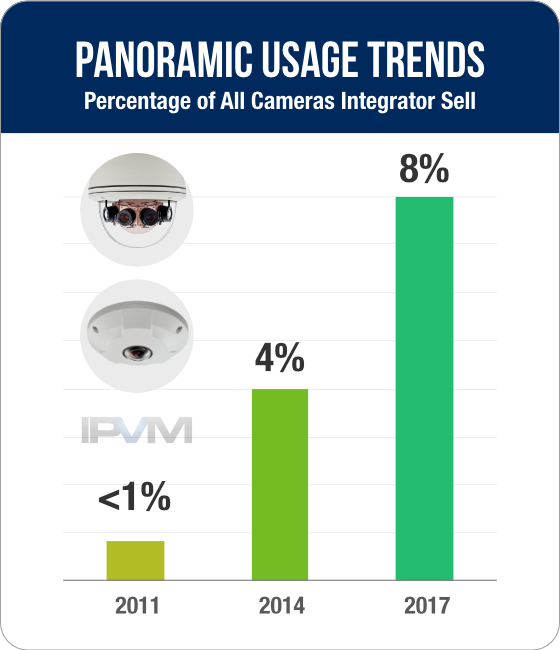 Are Panoramic Cameras really necessary for security camera systems?
The answer is that it depends on where you want to use it. For example, if you want to watch a hallway or road intersection, panoramic cameras will be very useful to see all directions from one single point. Also, they will save you from using too many dome cameras or a PTZ camera. They are also ideal for general monitoring in large indoor areas such as elevator lobbies or logistic warehouses.
On the other hand, as stated above, panoramic cameras can only provide a general view. If you want high detail, you will be dissatisfied. None of the panoramic security cameras can deliver high resolutions or optic zooms as the bullet, dome or PTZ cameras do.
Let's give an example to make it a little bit clearer. Imagine there is a criminal activity occurring, Panoramic cameras can show you the crime scene, what is happening and how many people participating in but, it is almost impossible to identify the criminals faces if they are not very close to the camera while looking directly to it.
In addition, you can buy up to 4 dome cameras with a similar cost of one panoramic camera.
To sum up, if you want to make a general monitoring without going into details and have lots of money, panoramic security cameras are the ones you are looking for.
Recent Posts
Security cameras have become one of the most useful, yet confusing pieces of technology

To many businesses, Black Friday is both one of the best days of the year and th

One of the requests we most often receive from our first time customers is to re