As shown by our massive catalog of security cameras, there are multiple different types of surveillance that benefit homes and businesses across the world.

How to Hide Security Cameras?
As shown by our massive catalog of security cameras, there are multiple different types of surveillance that benefit homes and businesses across the world. With so many options to choose from, there are also various ways to hide them when you are looking not to advertise your surveillance or at least certain aspects of it. From installation to additional features added thereafter, there are multiple ways you can conceal your indoor and outdoor security cameras for surveillance.
An excellent tool at your disposal regardless of your location is the A1 Security Cameras system design service. Have our professionals put together the best security camera system for your home or business and electronically deliver it back to you. Our team can make concealing your camera when within reason and make the most out of surveillance within the parameters you set. Contact us today for more about our services and products!
Is it illegal to hide a security camera?
Those that own land or a house may put security cameras wherever they want (within reason) and may also hide them. For businesses, the law is distinctly different and changes from state to state as well as country to country. Companies in America may be restricted based on legal concepts like "legal expectation of privacy" or audio consent laws. The former dictates that a person in a specified area cannot be subject to surveillance based specific room or environment. As better explained by a past post about audio and security cameras, audio restrictions are subject to the federal anti-wiretap law and one or multi-party consent laws. The best route for businesses to avoid such restrictions is to avoid audio unless absolutely necessary.
Easiest security cameras to hide?

From the experience of A1 Security Cameras installers, the most straightforward security cameras to conceal include:
Pinhole Security Cameras: Small in size, pinhole cameras are specifically designed to be inconspicuous after implementation. Used in various avenues of society like in the standard ATM and mailboxes, these cameras are small enough in size to go without notice, even for the most vigilant observer. Noteworthy developers of this device include AXIS, Hanwha Techwin, and LTS Security, among others that sell through A1 Security Cameras.
Dome Cameras: Unlike the pinhole camera, the dome camera is a much more visible security camera that can be installed on walls, ceilings, or mounted. Such cameras not only have the benefit of a tinted dome to conceal the internal camera but typically also feature a compact design that can be added to for concealed surveillance. Notable developers of this device include Hikvision, Arecont Vision, and Hanwha Techwin.
Wireless Cameras: Whereas other cameras on this list will generally require a wired connection, wireless cameras will not. While they will need a link to an outlet, they also allow for a more flexible installation when the home or business owner has a reliable wireless network. Furthermore, these devices come in multiple sizes and sometimes do not need mounts.
Fisheye Security Cameras: Generally designed for ceilings, fisheye security cameras are different compared to the other options in design. Typically mistaken for a fire alarm or detecting system, these cameras feature and are excellent in areas where foot traffic must be surveilled. Notable developers include Mobotix, ACTi, and Geovision.
Is it better to hide security cameras?
Statistically, visible outdoor cameras reduce property crime and specifically should be clearly visible. Furthermore, surveillance within clear view has less chance to obstruct their view. However, indoor security cameras can be concealed to record intrusions or unwanted activity and have less chance of being disabled. Typically, A1 Security Cameras suggests home and business owners have a mix of clearly present and hidden cameras throughout to gain the benefits of both types. We also recommend that when using hidden cameras, system owners use security cameras like those shown above that can make use of a specific view. Dome, bullet, and PTZ cameras may be effective in security but have multiple features that make them superior for uninhibited surveillance.
How to hide security cameras indoors?
Several methods are available to home and business owners who hide their security cameras. Depending on the types of cameras mentioned above, the methods might be numerous or limited to a few options. For indoor cameras that remain unmounted, however, there are options like:


Bookshelves

Decor

Display cases

Television or gaming centers


Furniture like those listed have the unique feature of providing an open surface to which the camera can be set or slight improvements may be edited on to mount the surveillance device. Best of all, in all examples, decorations can be placed to conceal the camera. A subtle example can be seen in television or gaming centers, which already should include multiple systems and can be placed among them.
Examples on the other side of the spectrum include display cases and bookshelves. Whereas placing similar electronic devices may not be a possibility, some have taken to hollowing out books, putting a camera behind trophies, using plants, drilling a hole in the back and covering with a screen, and more. Again, however, such a method would demand a little bit of craftsmanship on the owner's part and the use of tools if the furniture is made from wood.
However, hiding security cameras with decor is the easiest way to conceal your surveillance in an office or home setting. Some parents take to putting cameras in toys or among decorations while others place them among decorations high up on shelves. Office managers sometimes do something similar, placing a camera on shelves or at the secretary's desk to better surveil the lobby.
In reality, while these suggestions might prove beneficial to you, security cameras are limited by their design when concealment is the focus. Fisheye and pinhole cameras, for example, may allow for a little more creativity but are not as like to produce as good of quality as the other suggestions. Likewise, dome and wireless cameras provide better quality and maneuverability, but they might be harder to conceal by design.
How to hide security cameras outdoors?
Outdoor cameras have their own challenges as indoor cameras do when considering concealment. Most businesses, for example, might not have the luxury of hiding due to using bullet cameras high up on their building. However, for those that might use dome PTZ cameras or small surveillance devices at ground level, hiding cameras might include:


Birdhouses
Feeders
Fixtures
Machinery
Outdoor furniture
Plants
Statues


Like before, placing a camera in something like a fixture, birdhouse, or outdoor furniture might take some craftsmanship on the owner's part. For example, a birdhouse will have to be made especially for the camera and leave no room for birds to use it. Alternatively, placing a camera on a plant or statue would require minor craftsmanship editing and more creative implementation on the owner's part. Also, keep in mind, the outdoor camera should be waterproof in design. Furthermore, cameras can be placed within or around machinery for a substantial effect. Examples include pool pumps, near the breaker box, and air conditioning units.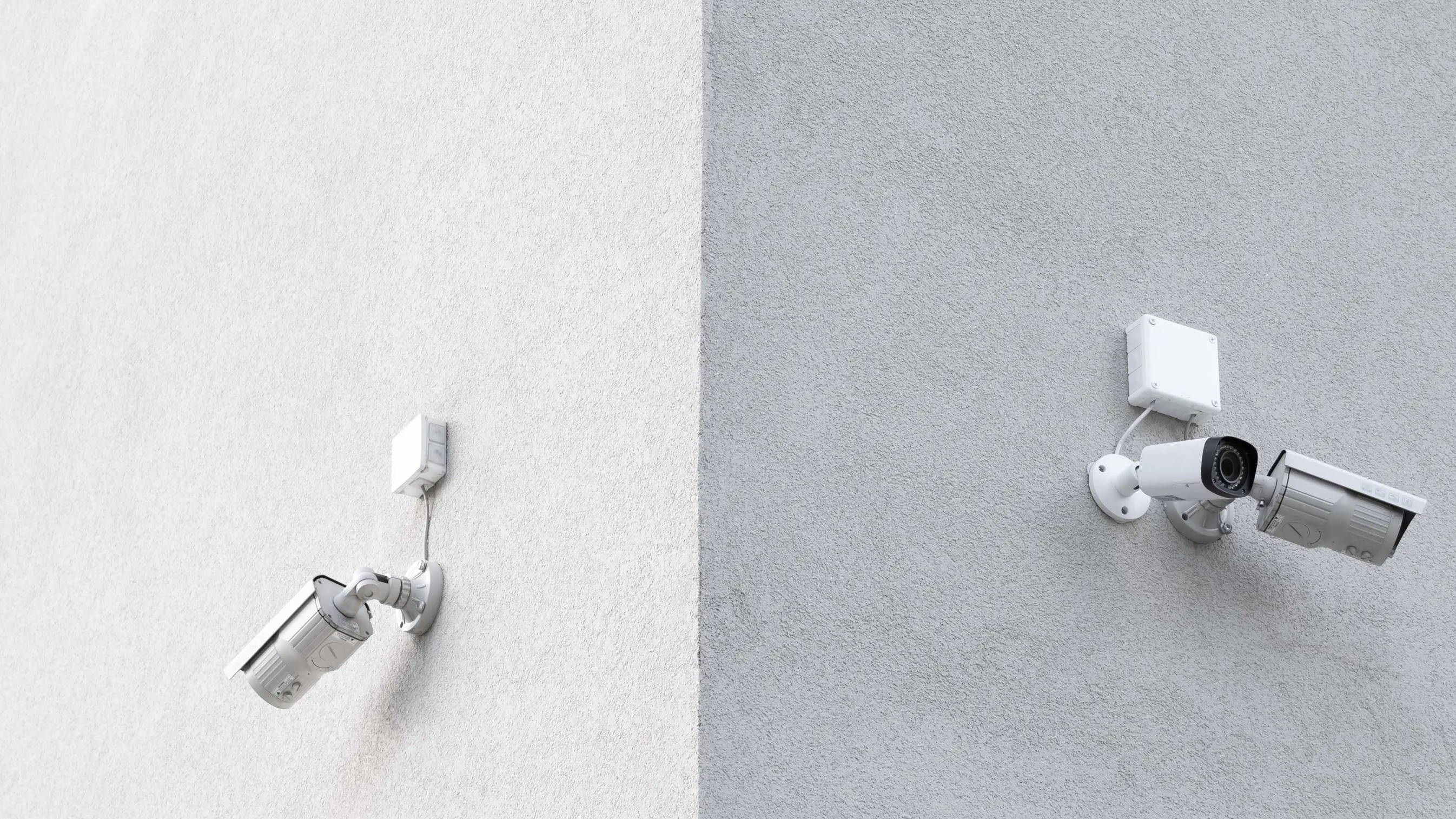 How do you hide a camera in plain sight?
For the majority of security cameras, hiding in plain sight is not a difficult task. Depending on your definition or preference, it could be as simple as a new coat of paint on the cover to placing it among plants or decorations. As mentioned above, cameras can be implemented around trophies or technology in furniture and plants. In addition, many have taken to painting colorful designs on their cameras or putting unique fixtures on them so that they appear like a decoration and not surveillance. While creativity in such an example certainly helps, it is not necessarily required for the best result.
How does a hidden camera work?
At a minimum, all cameras purchased through A1 Security Cameras require a connection to a wall outlet or something similar. From then on, the security camera will require a wired or wireless connection to a recorder or network. Hidden cameras work similarly, but are much smaller in design. Many just use one connection through USB, featuring a low wire leading back to the central system. Some cameras, not sold by A1 Security Cameras, are battery powered and subsist away from a direct connection.
Can a cell phone detect a hidden camera?
In normal circumstances, no, there are no standard methods to detect security cameras that an average person would use. However, if you have access to the local network, it is possible to see the devices on such and see which are used for surveillance. However, such access is strictly restricted to those with the necessary clearance in many businesses. Furthermore, a phone is not necessarily needed to find if surveillance devices in your immediate vicinity. Security cameras generally require both wiring and a direct field of view. If you're allowed the opportunity to be observant in your environment, you should be able to find them.
Why hide your security cameras?
For businesses, strict adherence to policies might require cameras being hidden in, if not a mix of both in the open and otherwise. For homeowners, cameras may display a significant target for criminals when your property is broken into and might be disabled immediately upon being spotted. Furthermore, such devices allow for the monitoring of babysitters and housekeepers when you are away. For more tips, benefits, or information about concealing security cameras, reach out to A1 Security Cameras today!
Recent Posts
To many businesses, Black Friday is both one of the best days of the year and th

One of the requests we most often receive from our first time customers is to re

A technology that becomes progressively more available year by year, WDR or wide dynamic