AXIS C8110 Network Audio Bridge - 02370-001
Description
AXIS C8110 Network Audio Bridge - 02370-001
AXIS C8110 Network Audio Bridge is a smart, standalone solution for connecting and combining analog and network audio systems or devices. It adds functionality like zone management and all the benefits of network to analog audio equipment.
Key Features:
Combines analog and network audio
I/O ports for buttons and relays
PoE for easy installation
Based on open standards
Easy integration with other systems
The best of both worlds
When used with analog speakers, this versatile audio bridge adds IP functionality to your system allowing you to convert analog speaker systems to IP. With AXIS C8110, you can connect any digital audio source such as 2N SIP Mic to your analog speaker system for live or pre-recorded voice messages. When used with network speakers from Axis, it allows for analog input from any audio source, converting the whole system and making it even smarter. A hybrid solution is also possible where you keep your analog system and add the benefits of network audio.Smart and easy integration
Smart and easy integration
Like all Axis products, AXIS C8110 is based on open standards (SIP, VAPIX and ACAP). This means you'll always have access to the latest applications being developed by our partners. With I/O, you can connect it to external buttons or relays to get extra functionality such as mute the system. And you can easily integrate AXIS C8110 with other systems. For example, with your network video system enabling announcements to be triggered by events captured on surveillance cameras, such as someone passing an exit the wrong way. You can also deliver voice messages by integrating it with any IP telephone system. And it connects to a standard network with Power over Ethernet.
To get a microphone with the benefits of network audio, AXIS C8110 can be combined with AXIS TU1002-VE Microphone Kit. This combination lets you easily add intelligent analytics on the edge, for example detect aggressive behavior, broken glass, gunshots, and more.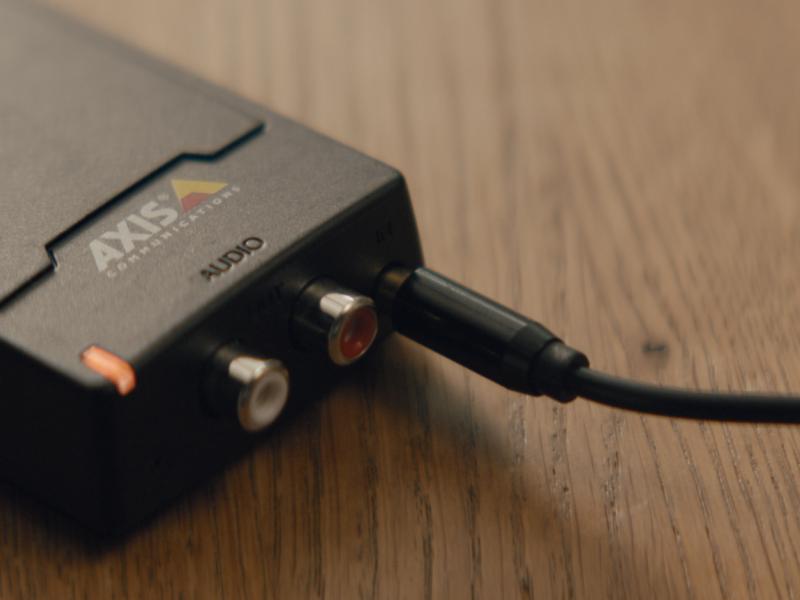 Intelligent system
With the built-in AXIS Audio Manager Edge application, you can efficiently manage and control your audio system. It enables functionalities such as zone management, content prioritization, and scheduling of content so you can ensure the right content is sent to the right speakers at the right time. A single audio bridge is all you need for hundreds of speakers, making it a truly cost-efficient solution. This standalone, complete audio system offers an intelligent hub and allows analog audio sources to integrate with Axis network speakers. This means you can also play music from cell phones, tablets, computers, a professional music streaming box, and more.
Popular Search
Additional Information
| | |
| --- | --- |
| Alternative SKUs: | |
| Audio Input: | |
| Audio Output: | |
| Audio Surveillance Type: | |
| Color: | |
| Connection Type: | |
| Dimensions: | 24 x 56 x 128 mm (0.94 x 2.2 x 5.0 in) |
| Environmental: | |
| Frequency: | |
| Max Power Consumption: | |
| Network Interface: | |
| | |
| | |
| Power Supply: | |
| Protection Code: | |
View All
Close