Default Usernames, Passwords and
IP Addresses for Surveillance Cameras
Forgotten or lost login credential information needed to access surveillance systems and/or individual components is a fairly common occurrence for A1 customers. Specifically user names, passwords & IP addaresses, which are all touched on in this article. The information found on this page will potentially be applicable for a wide-range of system applications and types (including, but not limited to) smaller residential systems on up to enterprise/commercial systems and even Integrators trying to help their customers!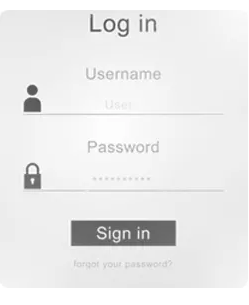 We will warn you that some equipment manufacturers can have 'advanced product lines' that also include unique credential protocols. In those cases this information may not/would not apply, and if so, you can also try referencing the installation manual specific to that product. These manuals are often found online by searching your specific part number and then some light digging into those online search listings, but as well the A1 service team can provide manuals to you if you are unable to locate that.
Below is a chart that lists default credentials by manufacturer/brand name. If you or someone with access to your system has changed any default values, then the default credentials would no longer apply unless the equipment in question is first 'reset' (resetting equipment is also something the A1 team is happy to help you if needed). Below is an easily referenced chart for you, hope it helps but reach out to us if it does not or for any other service needs you are unable to resolve yourself! For How to Reset IP Camera to Factory Settings by Brands please click HERE
If you have any questions, please feel free to ask using the chat window below.

---
1- Remove the Ethernet cable 2- Press and hold the control button and insert the Ethernet cable again while holding the control button. 3- Hold the control button until the amber lights turn on. Then release the button . Wait about 1 minute. 4- When the amber lights turns into the green lights your camera is resetted and your passoword as well.

---
Arecont does not have a default password, but you can reset it to factory settings. Follow these steps 1- Access the camera's web interface by typing the IP in your web browser. 2- Under the Administration or System tab, click on Restore to Factory Default. 3- Once the camera reboots, all settings on the camera will be restored to factory default
| | | | |
| --- | --- | --- | --- |
| Brand | User Name | Password | IP Addressr1 |
| | | | |
| | | | |
| | | | |
| | | | |
| | | | |
| | | | |
| | | | |
| | | | |
| | | | |
| | | | |
| | | | |
| | | | |
| | | | |
| | | | |
| | | | |
| | | | |
| | | | |
| | | | |
| | | | |
| | | | |
| | | | |
| | | | |
| | | | |
| | | | |
| | | | |
| | | | |
| | | | |
| | | | |
| | | | |
| | | | |
| | | | |
| --- | --- | --- | --- |
| Brand | User Name | Password | IP Addressr1 |
| | | | |
| | | | |
| | | | |
| | | | |
| | | | |
| | | | |
| | | | |
| | | | |
| | | | |
| | | | |
| | | | |
| | | | |
| | | | |
| | | | |
| | | | |
| | | | |
| | | | |
| | | | |
| | | | |
| | | | |
| | | | |
| | | | |
| | | | |
| | | | |
| | | | |
| | | | |
| | | | |
| | | | |
| | | | |
| | | | |